THE ALL ENGLAND YOUNG KOI SHOW 2018 RESULTS
Although the South East Koi Club have organised over 50 Koi Shows since 1982, putting on The All England Young Koi Show with Koi entered up to 65cm was something very different.
Being a bit of an unknown quantity, particularly being held early in the year we decided to have 30 vats which would reduce the setting-up time.
All the vats were booked early and there was a reserve list in case anyone cancelled. On the Saturday before the Show we had arranged to move the vats and pipework ready for Monday when everything would be moved into position and we could start filling the vats.
A week before the Show I looked out of the window on Saturday morning and my heart sank to find there had been a downfall of snow. I cleared the snow off my car and drove to the Showground where ten to twelve of our members had managed to get there.It was cold, there was a blizzard, but we all carried on moving the equipment. I don't know what everyone else was thinking, but we kept saying "it's going to warm up and the sun will be shining". We had our meeting on the following day and returned to the Showground on Monday to start setting-up. It got warmer as the week progressed but Mick Preston,our Show Chairman, took the precaution to arrange for the halls to be heated.
Benching began on Friday when most of the Koi arrived, the last were benched on Saturday morning when judging was undertaken by our International Team of Judges led by Senior Judge Gary Pritchard. 282 Koi were entered in the Show, displayed in 30 Show vats. There were, as always, some superb Koi entered which I'm sure placed pressure on our judges to decide the winners. It was good to see so many visitors from all over the country attend our Show, a good time for everyone to catch up and chat about Koi.
The Grand Champion was awarded to Paul Williams for his Size 5 Kinginrin Showa which in addition took the Size 5 Champion and Best Non Gosanke Awards. Unfortunately, on Saturday there was an accident on the bridge at Dartford which was closed and caused delays for our visitors coming from the north. I know it took some people a great deal of time to get to the Show but some sadly had to turn back.
A big thank you to Saki-Hikari who have generously sponsored the Show and supplied their Premium Quality Koi Food for the Exhibitors and Club Members who helped erect and take down the Show. I would also like to thank Kusuri, Palintest, Colombo, Waterco and Domburg Sportprijzen Holland for generously contributing their products to our Show.
David Brown Chairman
Judges: Gary Pritchard – Head Judge (BKKS UK); Carol McCall (BKKS UK); Toën Feyen (ZNA South Africa); Gary Hazely (BKKS UK); Keith Bertie (BKKS UK) and Niko Bellens (BKS Belgium).
Trainee: Anthony Grey (BKKS UK).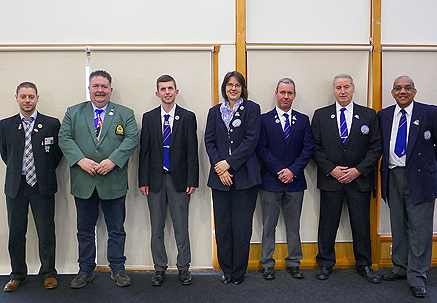 MAJOR AWARDS
| | | | |
| --- | --- | --- | --- |
| Grand Champion | Paul Williams | Kinginrin | Size 5 |
| | | | |
| --- | --- | --- | --- |
| Best non Gosanke | Paul Williams | Kinginrin | Size 5 |
| | | | |
| --- | --- | --- | --- |
| Size 5 Champion | Paul Williams | Kinginrin | Size 5 |
| | | | |
| --- | --- | --- | --- |
| Size 4 Champion | Mick Preston | Kohaku | Size 4 |
| | | | |
| --- | --- | --- | --- |
| Size 3 Champion | Jason Smith | Showa | Size 3 |
| | | | |
| --- | --- | --- | --- |
| Size 2 Champion | Barry Thompson | Kohaku | Size 2 |
| | | | |
| --- | --- | --- | --- |
| Size 1 Champion | Jason Smith | Kinginrin | Size 1 |
RUNNER-UP AWARDS
| | | | |
| --- | --- | --- | --- |
| Size 5 Champion | David Pope | Kohaku | Size 5 |
| | | | |
| --- | --- | --- | --- |
| Size 4 Champion | Neal Hornshaw | Showa | Size 4 |
| | | | |
| --- | --- | --- | --- |
| Size 3 Champion | Robert Robson | Kinginrin | Size 3 |
| | | | |
| --- | --- | --- | --- |
| Size 2 Champion | Brian Knox | Kinginrin | Size 2 |
| | | | |
| --- | --- | --- | --- |
| Size 1 Champion | Paul Dolan | Utsurimono | Size 1 |
FRIENDSHIP AWARDS
| | | | |
| --- | --- | --- | --- |
| SAKKS (South African ZNA) | Andy Day | Kawarimono | Size 2 |
| | | | |
| --- | --- | --- | --- |
| BKS (Belgian ZNA Chapter) | David Pope | Kohaku | Size 5 |