The All England Koi Show is over for another year and a big thank you to everyone who contributed to making it a success. Congratulations to Raad Hassan who has won the Grand Champion Award for the third year in succession with his Size 7 Sanke. Not to be outdone, Andy Baker won the Best Non Gosanke Award for the third year in succession too with his Size 7 Shiro Utsuri, a 'hat trick' for both exhibitors and never been achieved before in the history of the Show.
Our Baby Champion must get a special mention, the winner was an Ikarashi Kazuto Showa supplied by Walcot Koi and exhibited by Jack Bunker, a long term member of the South East Koi Club.
This year, there were 389 koi entered in the show, displayed in 52 show vats. The International Judging Team led by Senior Judge Carol McCall split into three teams to carry out the judging.
The standard of the koi exhibited was again extremely high and so many high class koi went home without winning an award, no reflection of the quality of these koi.
There were so many kohaku entered, 29 Size 4 and 27 Size 5, it took 45 minutes to judge Size 5 and Carol McCall said there was not a bad kohaku among them.
David Brown Chairman
Judges: Carol McCall – Head Judge (BKKS UK); Toën Feyen (ZNA South Africa); Mark Kleijkers (ZNA Holland); Gary Hazely (BKKS UK); Stefan Malm (BKKS Sweden); Niko Bellens (BKS Belgium).
Guest Judge: Masato Hoshino (Japan).
Trainee: Miki Ames (ZNA Germany); Anthony Grey (BKKS UK).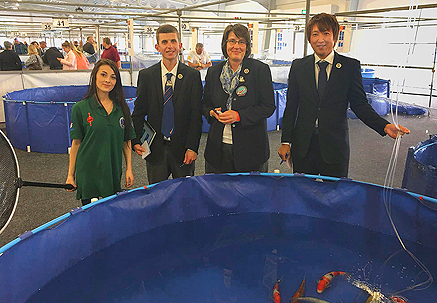 | | | | |
| --- | --- | --- | --- |
| Grand Champion | Raad Hassan | Sanke | Size 7 |
| | | | |
| --- | --- | --- | --- |
| Superior Champion | Kevin Paul | Kohaku | Size 7 |
| | | | |
| --- | --- | --- | --- |
| Mature Champion | Scott Jenkins | Sanke | Size 6 |
| | | | |
| --- | --- | --- | --- |
| Adult Champion | David Pope | Kinginrin | Size 5 |
| | | | |
| --- | --- | --- | --- |
| Young Champion | Paul Williams | Sanke | Size 4 |
| | | | |
| --- | --- | --- | --- |
| Baby Champion | Jack Bunker | Showa | Size 2 |

| | | | | |
| --- | --- | --- | --- | --- |
| Size 1 | First | Neil Hornshaw | Sanke | |
| | | | | |
| --- | --- | --- | --- | --- |
| | Second | Kevin Green | Kohaku | |
| | | | | |
| --- | --- | --- | --- | --- |
| | Third | Neil Hornshaw | Kinginrin | |
| | | | | |
| --- | --- | --- | --- | --- |
| Size 2 | First | Jack Bunker | Showa | |
| | | | | |
| --- | --- | --- | --- | --- |
| Size 3 | First | Matthew Pearson | Showa | |
| | | | | |
| --- | --- | --- | --- | --- |
| | Second | Paul Williams | Kohaku | |
| | | | | |
| --- | --- | --- | --- | --- |
| | Third | Lee Cresswell | Sanke | |
| | | | | |
| --- | --- | --- | --- | --- |
| Size 4 | First | Paul Williams | Sanke | |
| | | | | |
| --- | --- | --- | --- | --- |
| | Third | Gary Butterfield | Showa | |
| | | | | |
| --- | --- | --- | --- | --- |
| Size 5 | First | David Pope | Kinginrin | |
| | | | | |
| --- | --- | --- | --- | --- |
| | Second | Karen Tovey | Kohaku | |
| | | | | |
| --- | --- | --- | --- | --- |
| Size 6 | First | Scott Jenkins | Sanke | |
| | | | | |
| --- | --- | --- | --- | --- |
| | Second | James Fermor | Kohaku | |
| | | | | |
| --- | --- | --- | --- | --- |
| Size 7 | First | Kevin Paul | Kohaku | |
| | | | | |
| --- | --- | --- | --- | --- |
| | Third | Andy Baker | Utsurimono | |

| | | | |
| --- | --- | --- | --- |
| All Philippine Koi Society | Alan Reeves | Kawarimono | Size 5 |
| | | | |
| --- | --- | --- | --- |
| Banana Bar Koi Society | Ron Rance | Kawarimono | Size 5 |
| | | | |
| --- | --- | --- | --- |
| BKS (Belgian ZNA Chapter) | Matthew Pearson | Kawarimono | Size 2 |
| | | | |
| --- | --- | --- | --- |
| Koi Society of Western Australia | Gregg Harris | Bekko | Size 5 |
| | | | |
| --- | --- | --- | --- |
| North East Koi Club | Emma David | Utsurimono | Size 3 |
| | | | |
| --- | --- | --- | --- |
| NVN (Dutch ZNA Chapter) | Andrew & Penny Moorby | Kawarimono | Size 3 |
| | | | |
| --- | --- | --- | --- |
| SAKKS (South African ZNA) | Lewis Pearce | Sanke | Size 5 |

| | | | | |
| --- | --- | --- | --- | --- |
| Best Kin Showa | First | Jack Bunker | Hikari Utsuri | Size 2 |
| | | | | |
| --- | --- | --- | --- | --- |
| Best Kin Showa | Second | Gregg Harris | Hikari Utsuri | Size 5 |
| | | | | |
| --- | --- | --- | --- | --- |
| Best Kin Showa | Third | Robert Robson | Hikari Utsuri | Size 3 |
| | | | | |
| --- | --- | --- | --- | --- |
| Best non Gosanke | | Andy Baker | Utsurimono | Size 7 |
| | | | | |
| --- | --- | --- | --- | --- |
| Jumbo Award | | Kevin Paul | Sanke | Size 7 |
| | | | | |
| --- | --- | --- | --- | --- |
| Best Doitsu | | Adam Richardson | Sanke | Size 4 |