We were lucky with the weather again and began setting up our 30th Open Show on Tuesday 20th September. While this was all going on exhibitors were benching their koi on-line using the Koi Pro Show benching program which has again proved to be an effective time saving addition. The last koi were benched on Friday which made a total of 360 koi entered. This year we have added size 8 to the judging categories and benched the largest koi we have ever had entered, an 105cm chagoi owned by Des Harris.
Friday was a very busy day as Koi dealers arrived to set oup their stands for the weekend, by close of play Friday we were all ready to go.
Again our show was judged by an international team of judges who carried out the task in their usual professional way.
David Brown Chairman
Judges: Gary Pritchard – Head Judge (BKKS UK), Anja Albertsboer (ZNA Australia), Richard Albertsboer (ZNA Australia), Niko Bellens (BKS Belgium), Toën Feyen (ZNA South Africa), Mark Kleijkeres (ZNA Holland), Stefan Malm (BKKS Sweden), Alan Tait (BKKS UK), Louis Vanreusel (ZNA Germany).
Trainee: Mikki Ames (ZNA Germany), Anthony Grey (BKKS UK), Gary Hazely (BKKS UK).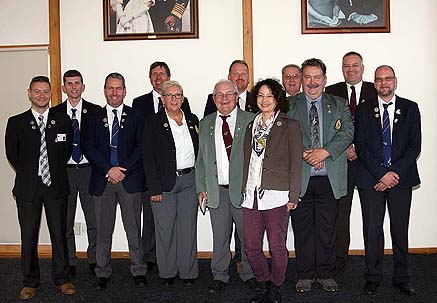 | | | | |
| --- | --- | --- | --- |
| Grand Champion | Raad Hassan | Sanke | Size 7 |
| | | | |
| --- | --- | --- | --- |
| Superior Champion | Wayne Taylor | Sanke | Size 7 |
| | | | |
| --- | --- | --- | --- |
| Mature Champion | James Femor | Kohaku | Size 6 |
| | | | |
| --- | --- | --- | --- |
| Adult Champion | Stephen Anderson | Showa | Size 5 |
| | | | |
| --- | --- | --- | --- |
| Young Champion | Andy Baker | Kohaku | Size 4 |
| | | | |
| --- | --- | --- | --- |
| Baby Champion | Adam Byer | Kohaku | Size 2 |

| | | | | |
| --- | --- | --- | --- | --- |
| Size 1 | First | Adam Byer | Kohaku | |
| | | | | |
| --- | --- | --- | --- | --- |
| | Second | Neil Hornshaw | Sanke | |
| | | | | |
| --- | --- | --- | --- | --- |
| | Third | Neil Hornshaw | Showa | |
| | | | | |
| --- | --- | --- | --- | --- |
| Size 2 | First | Adam Byer | Kohaku | |
| | | | | |
| --- | --- | --- | --- | --- |
| Size 3 | First | Tony Thompson | Kohaku | |
| | | | | |
| --- | --- | --- | --- | --- |
| Size 4 | First | Andy Baker | Kohaku | |
| | | | | |
| --- | --- | --- | --- | --- |
| | Second | Wayne Taylorl | Utsurimono | |
| | | | | |
| --- | --- | --- | --- | --- |
| | Third | Mick Preston | Kohaku | |
| | | | | |
| --- | --- | --- | --- | --- |
| Size 5 | First | Stephen Anderson | Showa | |
| | | | | |
| --- | --- | --- | --- | --- |
| | Third | Paul Williams | Kohaku | |
| | | | | |
| --- | --- | --- | --- | --- |
| Size 6 | First | James Femor | Kohaku | |
| | | | | |
| --- | --- | --- | --- | --- |
| | Second | Raad Hassan | Kohaku | |
| | | | | |
| --- | --- | --- | --- | --- |
| Size 7 | First | Wayne Taylor | Sanke | |
| | | | | |
| --- | --- | --- | --- | --- |
| | Second | Lee Manning | Kohaku | |
| | | | | |
| --- | --- | --- | --- | --- |
| Size 8 | First | Peter Lewis | Sanke | |
| | | | | |
| --- | --- | --- | --- | --- |
| | Third | Des Harris | Kawarimono | |

| | | | |
| --- | --- | --- | --- |
| All Philippine Koi Society | Alan Reeves | Asagi/Shusui | Size 4 |
| | | | |
| --- | --- | --- | --- |
| BKS (Belgian ZNA Chapter) | Ron Rance | Showa | Size 6 |
| | | | |
| --- | --- | --- | --- |
| KLAN (German ZNA Chapter) | David Edge | Kawarimono | Size 5 |
| | | | |
| --- | --- | --- | --- |
| Koi Society of Australia | Laurence Harvey | KinGinRin | Size 6 |
| | | | |
| --- | --- | --- | --- |
| Koi Society of Western Australia | Daran Wood | Bekko | Size 4 |
| | | | |
| --- | --- | --- | --- |
| North East Koi Club | Andy Baker | Utsurimono | Size 7 |
| | | | |
| --- | --- | --- | --- |
| NVN (Dutch ZNA Chapter) | Jason Smith | Kawarimono | Size 3 |
| | | | |
| --- | --- | --- | --- |
| SAKKS (South African ZNA) | Paul Williams | KinGinRin | Size 5 |

| | | | | |
| --- | --- | --- | --- | --- |
| Best Ochiba Shigure | First | Alan Reeves | Kawarimono | Size 4 |
| | | | | |
| --- | --- | --- | --- | --- |
| Best Ochiba Shigure | Second | Wayne Taylor | Kawarimono | Size 5 |
| | | | | |
| --- | --- | --- | --- | --- |
| Best Ochiba Shigure | Third | Jason Smith | Kawarimono | Size 4 |
| | | | | |
| --- | --- | --- | --- | --- |
| Best non Gosanke | | Andy Baker | Utsurimono | Size 7 |
| | | | | |
| --- | --- | --- | --- | --- |
| Jumbo Award | | Des Harris | Kawarimono | Size 8 |
| | | | | |
| --- | --- | --- | --- | --- |
| Best Doitsu | | Laurence Harvey | Sanke | Size 5 |